Soneva Fushi
In 1995 Sono and Eva created pure paradise. Soneva Fushi is located in the Baa Atoll UNESCO Biosphere reserve.
This is unlike any other Maldives experience you will have. There are no overwater bungalows at Soneva Fushi but you wont care. This is a jungle paradise, beach front with the most eco minded and sustainable driven company that will make you want to support them for years to come.
This is pure luxury. There is a reason Madonna and Tilda Swinton have been coming for years.
Apart from being eco forward. They have looked after every intricate detail to make this bare foot luxury retreat unforgettable.
We arrived very late a night. When we wake to the sound of the ocean and our glorious interiors we are hungry for breakfast -what awaited us was like a scene from Charlie and the chocolate factory and yes chocolate is very much involved.
Soneva Fushi has a chocolate room (all made on site) a cheese and chachuterie room, an ice-cream room, a pastries room, a salad room. It has designated chefs to create whatever your heart desires.
It has the obvious eggs with all the trimmings, it has pancakes, stir fries and curry for breakfast. It even had the most incredible Sri Lankan breakfast called "hoppers" rice flour made into a bowl with an egg cooked at the bottom- matched with a multitude of curries it was by far the greatest breakfast moment I've ever had.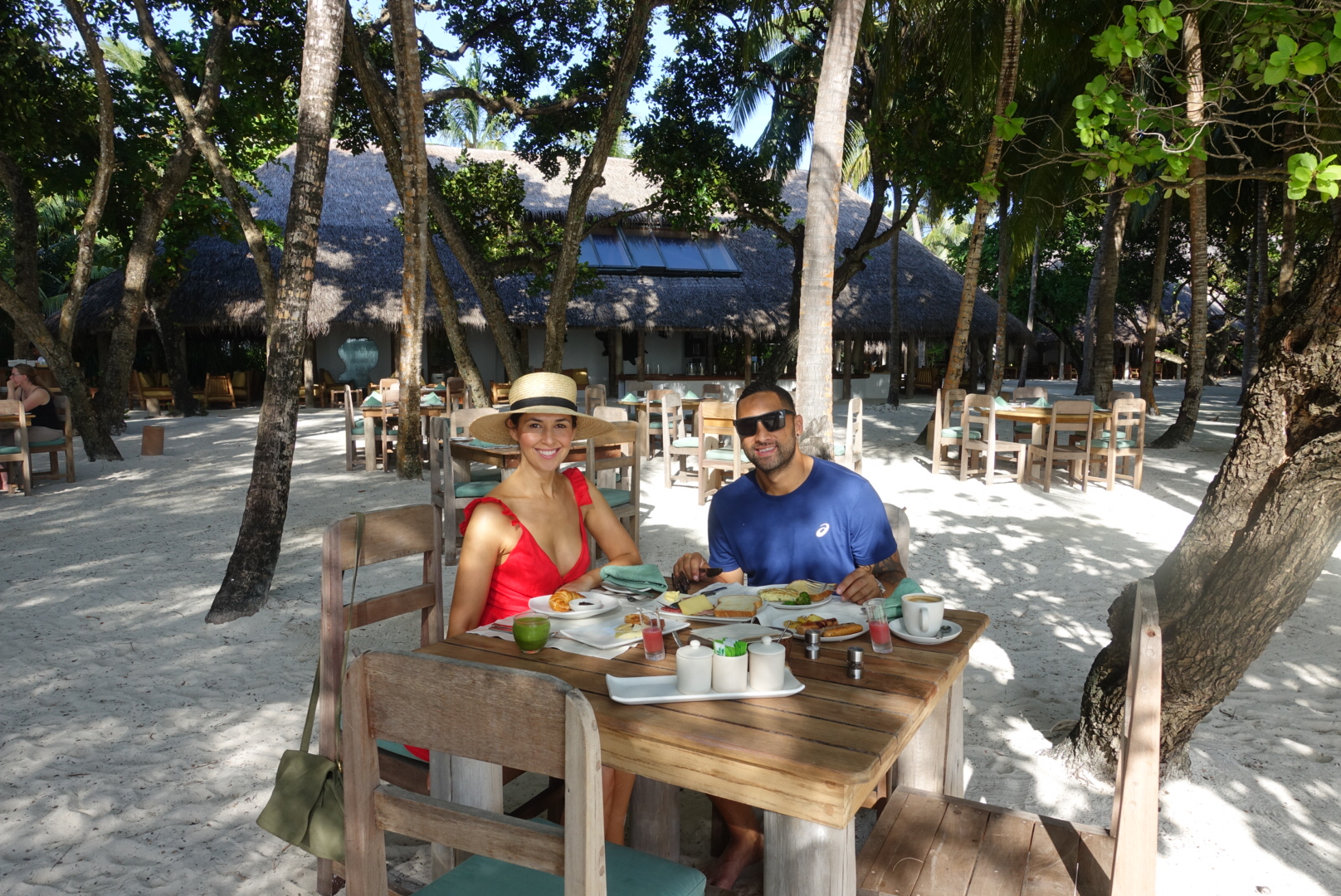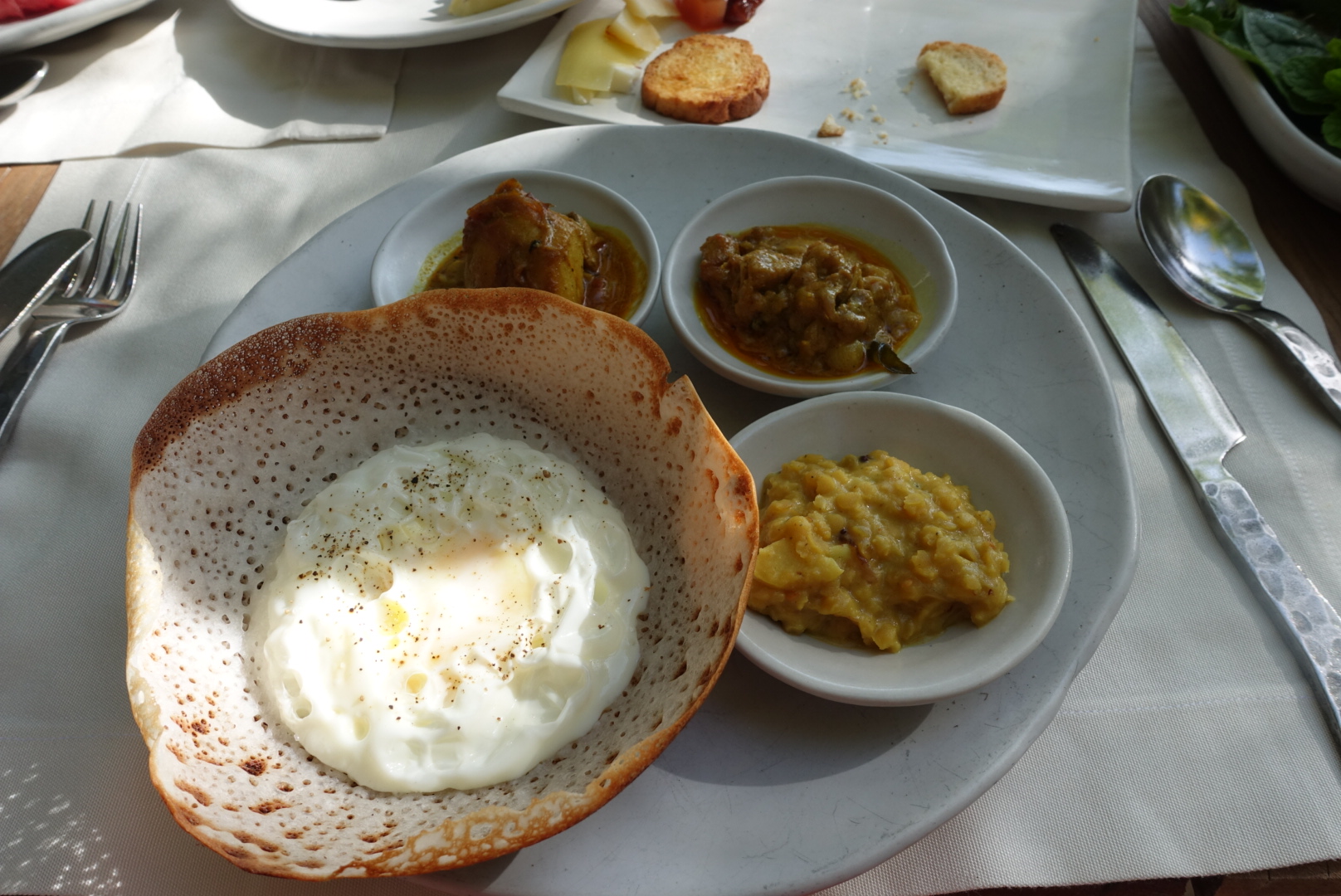 They have fruit that you've never heard of- ready to be hand peeled and delivered to your table. There is a vegan section and a gluten free section too.
All the vegetables are from their sustainable gardens and they have a limited amount of waste as they recycle and re use almost everything on the island.
It was the most memorable breakfast of my life. After that slice of heaven, Benj and I sailed to our own private sandbank for the day.
It was set up with two deck chairs, an umbrella and an esky full of tropical fruit, sparkling and chilled water. We waved goodbye to the boat and had this private little island to ourselves.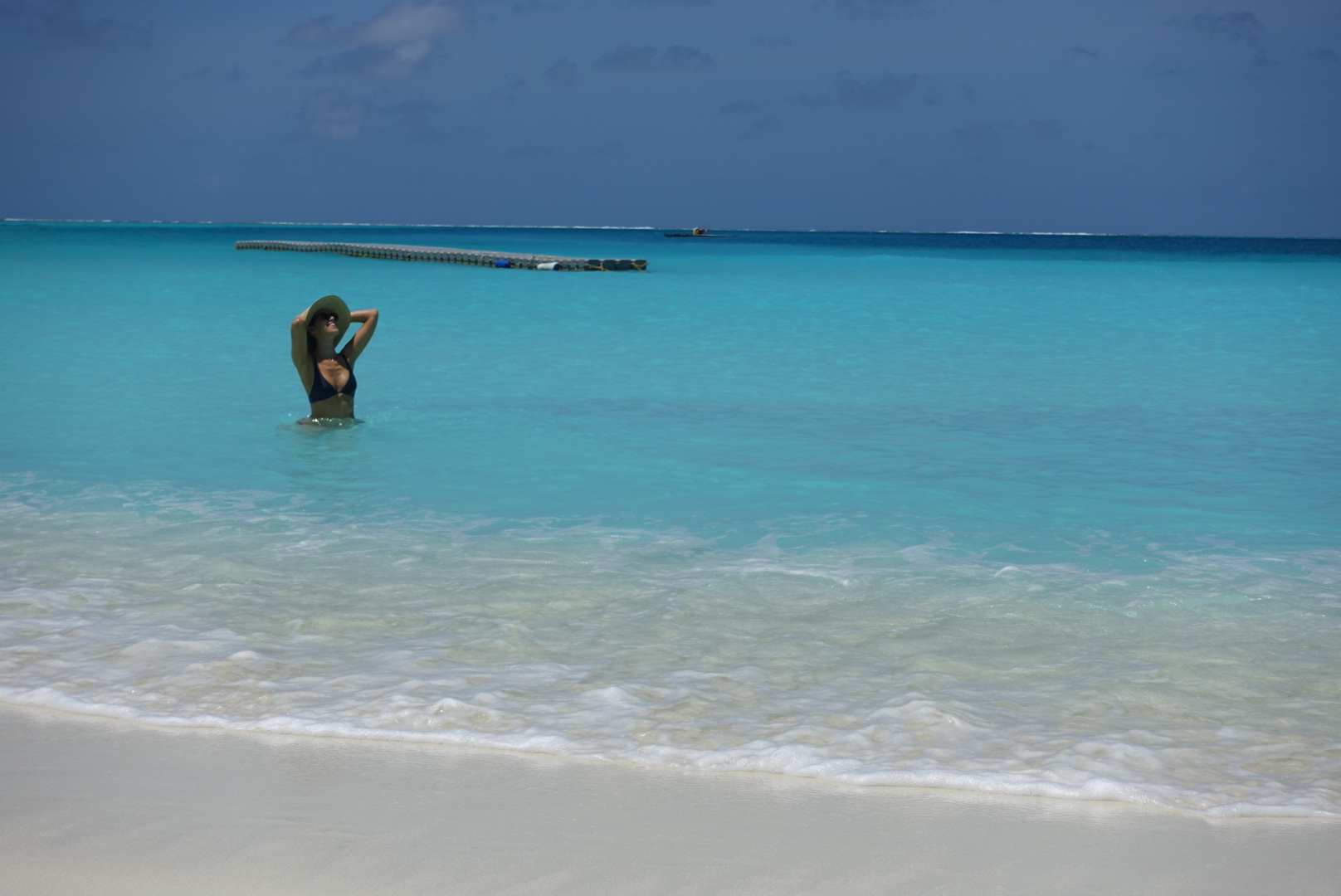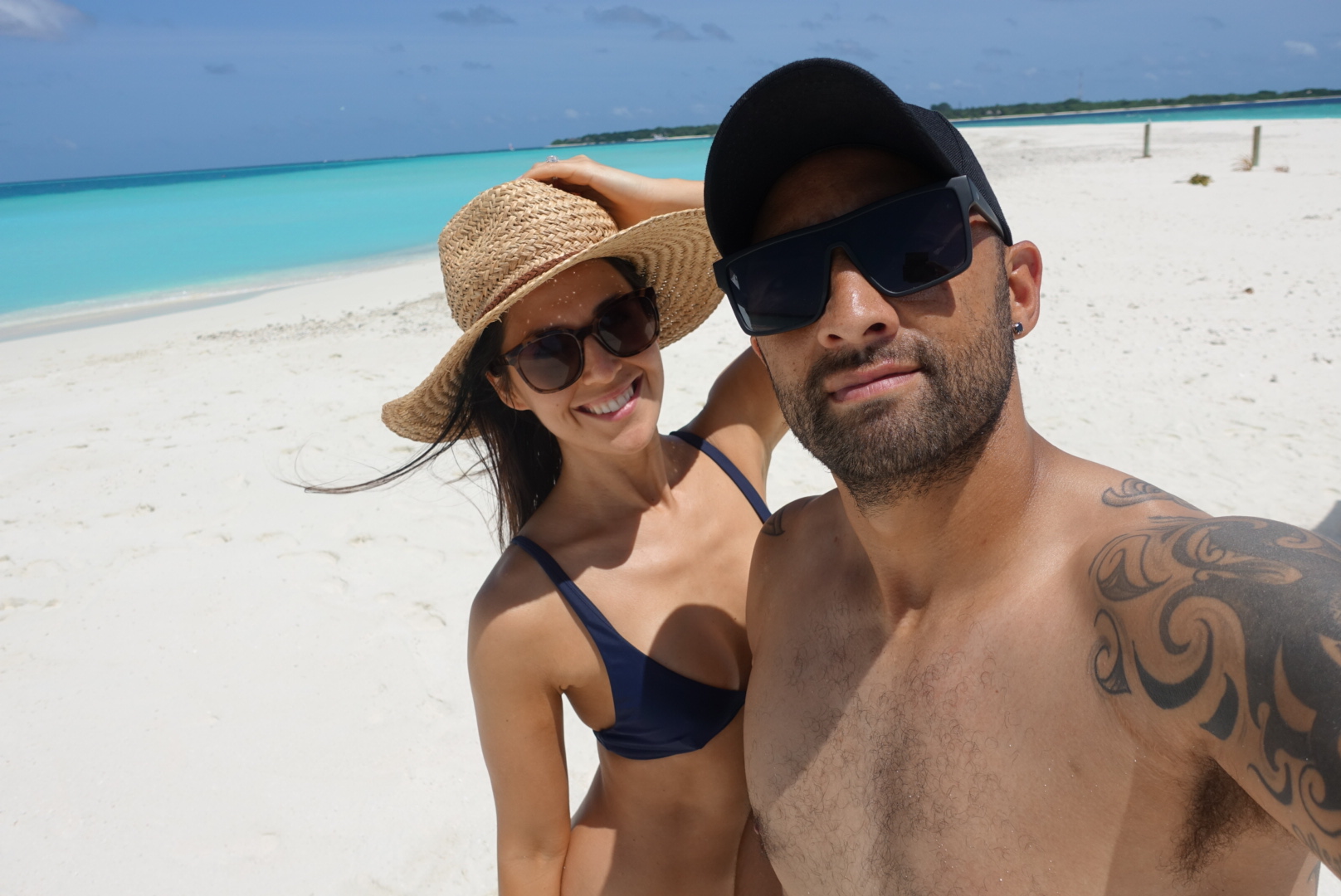 I could've cried it was so amazing.
Swimming in the most divine water, eating watermelon and kissing your loved one after lounging around all day will remain one of our best memories ever.
Lunch is often very quite at Soneva, everyone retreats to their private oasis and have lunch in the villa or are still too full from breakfast to eat lunch. Not us! We had line caught sustainable fish and veggies.
Benj helped himself to another scoop of ice-cream- all homemade from local ingredients- I lost count after his 7th scoop.
We went back to our room to dip in our private pool and then had a nap..
Dinner was magnificent. We went to the resturaunt "Fresh in the garden" which is literally in the tree tops. Cooked by the hilarious chef Aaron. We were delighted to try his creations. Lamb that had been cooking four 15 hours, Scampi that melted in your mouth and dessert called "carrot in the garden" he created that was not only gorgeous on the plate but delicious! We dined with the captain of Soneva In Aqua- The first floating Villa in the Maldives. Captain Aaron told us that we would get to check it out in the Morning.
It was incredible- we only got a sneaky peek around as we were flying out shortly but Aaron has saved us a spot any time we want.
One of the most special moments of our trip was meeting "Ado" he was our "Mr Friday" like a butler or our go to guy. The sweetest man I've ever met. He was full of energy and incredible facts about the resort and how it evolved.
I have to say that Sono and Eva have created something truly remarkable. Their vision for sustainability and wanting to create change in the Maldives and the way they consume is remarkable.
They recycle 73% of all waste on the island, use only solar power and have created "Eco Centro" the hub where all waste gets organised, reused or repurposed. They have also prevented 1.2 million plastic bottles going to land fill since 2008. They have intensive reef protection practices and our heavily involved in the local community. They pride themselves on being conscious philanthropists and they are.
Benji and I had limited time at Soneva Fushi but we will be back. We must of course experience Soneva Jani (the new baby of Soneva)- with the most spectacular villas the Maldives have to offer. I noticed Jen Hawkins checked into Soneva Jani the day we left. If its good enough for Jen its good enough for me!
www.soneva.com